A History Of The


American Radiator Company Building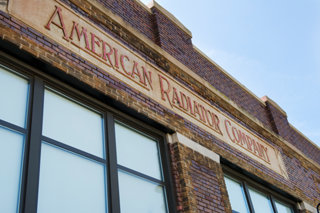 The American Radiator Company Building, now home of the Church of Scientology of Denver, was originally constructed in 1916. It stands in the heart of the Ballpark Neighborhood Historic District in Lower Downtown, one block from Coors Field.
The building is among the finest examples of late 19th and early 20th century industrial architecture that proliferated in Denver as the city evolved into a major capital of the American West. It further epitomizes the trend of historic preservation that began in the 1980s and revitalized Lower Downtown into a thriving hub of the city.
After acquiring the landmark building, the Church meticulously preserved its historic features during renovation. Today the heritage of the American Radiator Company Building is fully intact—from the neoclassical marble entrance, terra cotta highlights and rooftop parapet, to the ornamental window grilles and oak-paneled entry hall.
Dedicated as the home of the Church of Scientology in June 2012, the landmark remains both a tribute to Denver's past and a signpost to its future.